REGATTA BARBECUE FEST
September 6, 2019

-

September 8, 2019
Event Navigation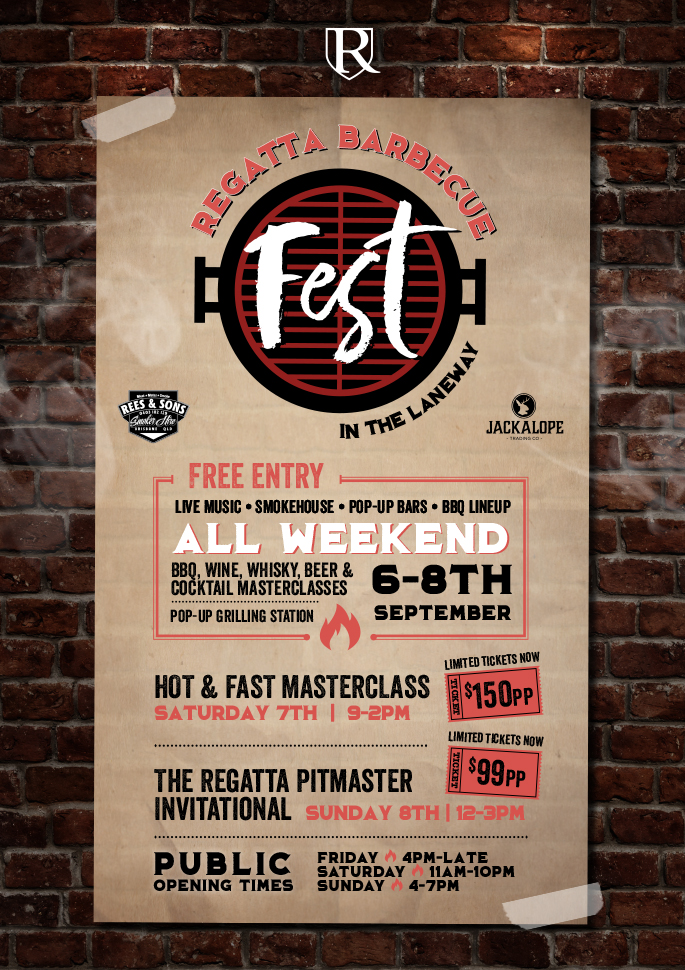 Join us for the Regatta Barbecue Fest as the laneway transforms into a weekend-long BBQ Showcase!  Lock in the dates, from 6-8 September, as we invite all BBQ enthusiasts (serious and not so serious!) to gather and get the low down on the hottest Barbecue tips, tricks and secrets, while enjoying a range of pop-up drink and food stations.
Partnering with the National Grilling Network, this fest is designed to showcase BBQ at its best– from smoking meats, a live fire precinct, rubs, side dishes, sauces, masterclasses and much more – come and savour the flavour as we take your taste buds on an epic Barbecue journey.
With FREE ENTRY and 3 precincts to roam, expect to see a full line-up of masterclasses  in the Showcase precinct hosted by various BBQ experts and covering hot topics such as How to cook an epic steak, How to make home-made BBQ sauce, a butchery masterclass and how to make the best barbecue side dishes, just to name a few. View the full BBQ line-up HERE
The Live Fire Precinct will be flaming hot, serving up some of the best BBQ plates in Brisbane, including beef brisket,  smoked chicken wings, fire roasted lamb and pork, epic burgers and more chef-inspired live-fire cooking! View the full menu HERE.
With a range of pop-up bars in our Malt, Bine & Vine precinct – expect to see a variety of  beers, whiskies (including a smoke bar!) and wine bars, along with live music all weekend!
Whether you are a serious foodie, aspiring BBQ master or someone that just loves eating BBQ and drinking beer, this weekend will have something for everyone.
As if that's not enough, we are also hosting the ULTIMATE battle of the BBQ – The Regatta Pitmaster Invitational, on Sunday from 12-3pm. 6 teams will battle it out across 3 categories – Best Brisket, Rump Cap and Beef Ribs! Sample them all and vote for your favourite!
CLICK HERE for more info on The Regatta Pitmaster Invitational